Understanding Insurgencies: Resonances from the Colonial Past
Coordinated by Martin Thomas and Gareth Curless of Exeter's Centre for the Study of War, State and Society (CWSS), the network brings together seven University partners: Exeter, Oxford, Warwick, Glasgow, CNRS Paris, Université de Québec, and KITLV Leiden. In spite of increasing interest in the history of counterinsurgency and empire, we lack comparative studies of colonial responses to armed insurrection, civil disorder, anti-colonial paramilitaries and other irregular forces.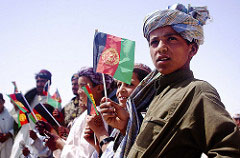 This project seeks to redress this imbalance by analysing colonial counterinsurgency and its contemporary legacies from a comparative perspective during eight Network workshop events. These will allow specialist scholars from the UK and overseas to refine ideas about the nature of late colonial conflict, the ways in which colonial security forces responded to it, and the ensuing patterns of violence, rights abuses, and legacies of inter-communal distrust that resulted.
The workshops, further details of which will be announced in the near future, will be organised around the following themes:
Testing the hypothesis: repression compared
The laws of war and targets of violence
Punishments and rewards
Political economies of colonial violence and counter-insurgency
Colonial insurgencies as transnational phenomena
Ending insurgency: ruptures and reconciliations