Christiaan Harinck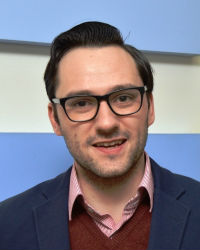 is Affiliated with the KITLV, working as a PhD candidate within the project 'Dutch military operations in Indonesia, 1945-1950' since November 2014. Harinck studied history at the universities of Leiden and Amsterdam, where he specialized in military and European history. His interests in military history are broad, ranging from battlefield tactics to the cultural representations of war.
His PhD-research is on the development of the Dutch Military's use of force during the war of decolonization in Indonesia, focusing on the reciprocal relationship between doctrinal theories and established wisdom on one hand and the actual use of and experience with violence on the other hand. This leads to a critical examination of  the doctrinal and legal framework for the Dutch military operations, its force structure, training and preparation, the appraisal of the enemy and his tactics, operational learning ('lessons learnt'), and finally the conduct of actual operations. With this research, Harinck hopes to provide a better understanding of the nature and dynamics of this war in particular, and mod

ern anti-guerrilla operations before the advent of sophisticated counterinsurgency theories from the late 1950s on more generally.